In this article we'll be comparing garage floor paint vs epoxy floor coatings. Epoxy has long been the go-to choice for people looking to upgrade their garage floors. However, most homeowners assume that epoxy paint and coating are the same or similar.
That couldn't be farther from the truth.
Epoxy paint and epoxy coatings are two different finishes, giving very different looks to your garage floor.
Epoxy paint is a latex acrylic paint with a small amount of epoxy as one of its components. Once it dries, it provides a tough, long-lasting finish on garage floors and other surfaces. That durability makes it easy to maintain. Its anti-slippery properties enable your floors to be safe even when wet.
By contrast, epoxy coating is a compound consisting of a polyamine hardener (also known as a catalyst) and an epoxy resin. When mixed together, they have a chemical reaction. Once the mixture cures, it hardens into a robust and long-lasting coating.
Some epoxy coating manufacturers add extra additives to the compound, such as UV inhibitors, flow control, or adhesion promoters, to make it more suitable for various flooring applications.
In this article, we will dive into the differences between epoxy floor coating and epoxy paint and their advantages and disadvantages.
For more in this series, check out our other floor coating comparison articles:
Table of Contents
---
Garage Floor Paint: Overview
As I mentioned in the intro, garage floor paint is typically acrylic or latex-based materials, which create a thin protective layer on your concrete floor.
It's common because of its affordability and simple application. However, it has its limitations.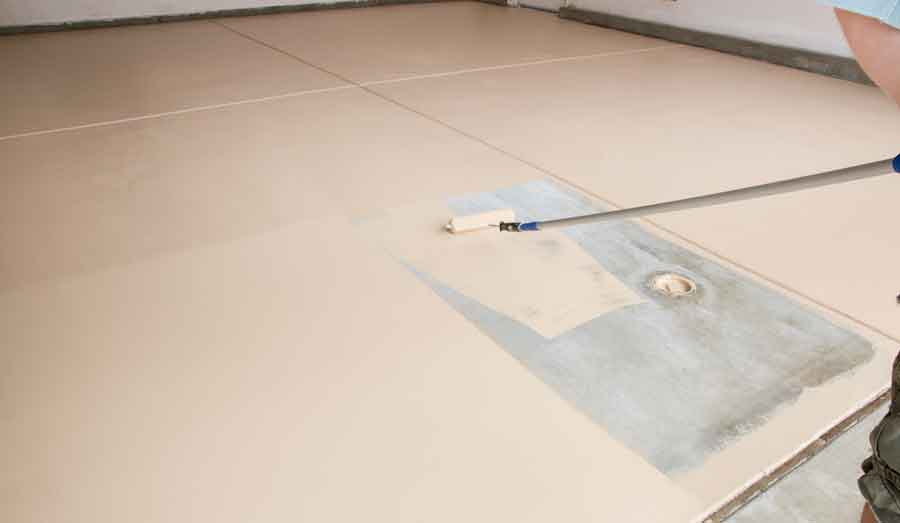 Let's explore the pros and cons of garage floor paint to help you decide if it's the right garage floor coating for you.
Pros of Garage Floor Paint
Easy Application: With garage floor paint, you can apply it using a simple roller or brush. No specialized skills or equipment are needed. If you don't want to DIY your garage floor, hiring a professional painter won't break the bank.
Unlimited Color Options: Garage floor paint offers an expansive palette of colors and finishes from matte to glossy and everything in between. If you have a color sample of a particular shade, most hardware stores can mix paint to match it.
Inexpensive: Garage floor paint is one of the most economical options for garage flooring. With a price tag ranging from $30 to $50 per gallon, it's a cost-effective makeover for your garage. Plus, finding garage floor paint is a cinch. You can pick it up at most hardware stores, home improvement centers, or online.
Cons of Garage Floor Paint
Not Resistant to Stains or Spills: Unfortunately, garage floor paint isn't the most durable defense against gasoline, motor oil, brake fluid, antifreeze, and water. They can cause the paint to soften, discolor, blister, or peel off over time.
Less Durable: Daily friction and pressure from vehicles, tools, equipment, and furniture can affect your garage floor paint. It's also sensitive to temperature and humidity changes in your garage, leading to fading, cracking, or peeling.
Prep-Work Needed: Garage floor paint requires a clean, dry, rough surface to adhere to properly. This means you'll need to clean, degrease, etch, or grind the concrete floor and apply a primer coat before painting. These additional steps can add time, cost, and effort to your project.
More Coats, More Touch-ups: A single coat of garage floor paint typically does not cover a concrete floor evenly. Expect to apply two or more coats. Regular touch-ups might be necessary to maintain its appearance and performance.
---
Epoxy Coating: Overview
Epoxy coating is a composite of a polyamine hardener and an epoxy resin. Combined, they form a powerful bond with concrete, creating a shiny, durable surface.
There are several types of epoxy floor coatings, each with its fair share of advantages and disadvantages. They include:
Self-Leveling Epoxy Floor Coating
This epoxy coating is easy to install, making it ideal for homeowners looking to remodel their garage floors or basements. As you apply it, it smooths out any bumps, gradients, or imperfections in your concrete floor.
Mortar Epoxy Floor Coating
Mortar coating is considered the strongest among all epoxy floors and is commonly used in heavy-product industrial areas. It can also be used to repair cracks in concrete floors before laying another kind of epoxy floor coating.
Terrazzo Epoxy Floor Coating
Terrazzo epoxy coating is decorative and easy to maintain. It is primarily used in commercial building entrances like offices, schools, banks, and hotels.
Graveled Epoxy Floor Coating
Graveled epoxy coating is also a decorative kind of epoxy flooring. It is mainly used to create brand marks and logos on commercial building floors.
Pros of Epoxy Coating
Superior Resistance: Epoxy coatings are resistant to gasoline, motor oil, brake fluid, antifreeze, or water damage. It also offers better durability than paint and resists scratches, scuffs, and daily wear and tear.
Easy to Clean: Epoxy coatings are non-porous and waterproof, so it doesn't absorb liquids or odors. Simple cleaning with mild detergent and water will keep it shining.
Looks Great: An epoxy-coated floor can turn a drab concrete garage into a glossy showpiece. It brightens up your garage, giving it a spacious, inviting look. The high durability means a well-maintained epoxy floor can last for decades, adding to the resale value of your property.
Customizable: If you want to achieve a specific look for your garage floor, an epoxy coating might be your answer. You can pick from a variety of colors and finishes, add decorative flakes or chips, or even mimic natural materials like marble or granite.
Cons of Epoxy Coating
Complex Application: Applying an epoxy coating isn't a straightforward DIY task. It involves mixing epoxy resin and hardener correctly and quickly before they set. You'll need protective gear such as gloves, masks, goggles, and proper ventilation to avoid exposure to toxic fumes and chemicals. Because of this, most homeowners have a professional epoxy flooring company install it for them.
Longer Preparation and Curing Time: Epoxy coating demands a clean, dry, and rough surface for successful adhesion and durability. This means thoroughly cleaning, degreasing, etching, and grinding the concrete floor before application. The epoxy coating must cure after application, which can take 12 hours to several days.
Higher Cost: Epoxy coating comes with a higher price tag than garage floor paint when you consider materials and labor. On average, epoxy coating costs between $3 to $12 per square foot, depending on product specifics. Professional labor costs can range from $1 to $5 per square foot, factoring in project complexity and size. There are fewer epoxy coating vendors, as well. You'll typically need to purchase the materials online or from specialty stores.
Slippery When Wet or Dusty: The smooth, glossy finish can become a slip hazard when wet or dusty. Consider adding skid-resistant additives to your epoxy coatings, like sand, grit, or rubber granules. While this can increase floor traction, it may reduce the shine and smoothness of your epoxy-coated floor.
---
Garage Floor Paint vs Epoxy: Installation Process
The installation process of both garage floor paint and epoxy coating is similar but has a few critical differences.
Remember that garage floor paint is available in oil-based (alkyd) and water-based (latex) varieties. Other than adding a pigment, the paint is pre-mixed.
Unlike paint, epoxy floor coatings have a two-part composition. They consist of a hardener (or activator) and a resin. When mixed, they form a durable and chemically resistant surface, distinguishing them from traditional paints.
Surface Preparation
The preparation of the surface for garage floor paint is generally less demanding. You still need to ensure the concrete is thoroughly cleaned and any damage, such as oil and grease stains, is repaired. But that's about it.
Conversely, epoxy floor coatings require more meticulous surface preparation before applying them. The concrete surface must be clean and free of severe cracks, chips, or spalls.
I recently tested various products to find the best concrete cleaners. Click on the link for my recommendations.
It is often necessary to etch the concrete to improve adhesion, followed by patching any minor cracks.
Application Process
Applying garage floor paint is relatively straightforward. You only need standard paintbrushes and rollers, and applying one or two coats is typically recommended for optimal results.
Applying epoxy coatings is a bit more complex, involving mixing the two-part epoxy just before application. Typically, one person will mix the epoxy with a drill mixer while another person spreads the epoxy coating with a squeegee.
You'll also need a paintbrush for cutting in along the edges. If desired, color chips can be added to enhance the visual appeal.
Drying and Curing Time
The drying and curing times for these garage floor coatings are very different.
Latex garage floor paint dries to the touch within hours, but allowing a full day before walking on the surface is best.
While epoxy paint dries much like any other paint, an epoxy floor coating cures rather than dries. That means it undergoes an exothermic reaction.
In short, as the epoxy resin and polyamine hardener molecules combine and react, they generate heat, causing the coating to cure. The more heat it produces, the faster it will cure.
That also makes it dangerous, so be sure to get epoxy off your skin quickly if that happens.
Epoxy coatings start to harden within about two hours of mixing, making it critical to work quickly during application. While the epoxy surface should be walkable after 24 hours, keeping vehicles off the garage floor for about four to seven days is advised to allow proper curing.
Cost and Customization
Latex concrete floor paint is relatively inexpensive, which makes it a popular choice for many homeowners. It comes in various colors, but you can also add tint to mix almost any color you want.
Epoxy coatings can be costlier than garage floor paint, especially if applied by professionals. They offer a wide array of color options, but you can't typically tint the epoxy like you can with concrete paint.
Durability and Resistance
Garage floor paint offers moderate protection and resistance against stains and wear. It may not, however, be as durable or chemically resistant as epoxy coatings.
Epoxy coatings are known for their superior durability, chemical resistance, and resistance to staining and abrasive damage. This makes them ideal for garage floors subject to heavy use or potential chemical spills.
---
Garage Floor Paint vs Epoxy: Cost
This section will delve into the nuances of cost for both garage floor paint and epoxy.
We'll dissect how everything from the square footage of your garage to the type of materials you opt for can swing the pendulum on your project's financial investment.
Moreover, we'll also weigh in on maintenance and repair costs, so you have a clear picture of what you might spend not just now but in the years to come.
Size and Condition of the Garage Floor
The size and condition of your garage floor will greatly impact the cost of applying garage floor paint or epoxy coating.
Naturally, a larger garage floor requires more paint or epoxy and more time and effort to apply. This increases the overall cost of the project.
Similarly, damaged or uneven garage floors require more preparation and repair work, including cleaning, etching, grinding, or filling cracks, before applying the paint or epoxy.
For example, a small garage floor of approximately 200 sq ft might only need one or two gallons of paint or epoxy to cover the surface. Conversely, a large garage floor, say 800 sq ft, may require four or eight gallons.
The cost per square foot for garage floor paint can range from $0.50 to $4. This considers the quality and quantity of the paint, the amount of preparation and repair work, and the labor and equipment costs if you're hiring a professional contractor.
On the other hand, the cost per square foot for epoxy coating can range from $3 to $12, depending on similar variables.
Quality and Quantity of Paint or Epoxy Materials
The quality and quantity of the paint or epoxy materials you choose also play a crucial role in determining the cost. High-quality materials will provide superior coverage, protection, durability, and appearance for the garage floor. Still, they will also cost more than lower-quality alternatives.
Latex or acrylic-based paint is easy to apply and comes in a variety of colors and finishes. Regular or premium epoxy paint contains a small amount of epoxy resin and hardener that adds durability. Some popular brands include Rust-Oleum, Behr, and Valspar.
Lastly, while more difficult to apply, high-solid epoxy coatings provide a seamless, smooth surface with a high gloss or metallic effect. They're available in various colors and finishes, such as high gloss, with popular brands including Epoxy-Coat, ArmorPoxy, and EpoxyMaster.
The cost per gallon for garage floor paint can range from $20 to $40, and a gallon of paint can cover about 200 to 400 sq ft, depending on the thickness of the coat.
On the other hand, the cost per kit for epoxy coating ranges from $100 to $500. An epoxy kit can cover about 200 to 500 sq ft, typically containing two coating layers: a primer coat and a top coat.
Labor and Equipment Costs
If you hire a professional contractor, labor and equipment costs will be a considerable portion of the overall project cost.
According to users on garagejournal.com, the labor cost for garage floor paint can range from $20 to $50 per hour, with the total project cost ranging from $400 to $2,000, depending on the size and condition of the garage floor.
For epoxy coating, the labor cost can range from $30 to $70 per hour, with the project cost ranging from $600 to $4,800.
Maintenance and Repair Costs
Finally, you'll need to factor the maintenance and repair costs over time into the total cost.
As we'll see in the next section, concrete floor paint isn't as durable as epoxy and could peel, chip, or fade over time. The paint can be damaged by abrasion, impact, oil, grease, or chemicals, requiring regular maintenance and potentially needing to be reapplied every few years.
In contrast, an epoxy coating can last years without significant wear and tear. It resists abrasion, impact, oil, grease, chemicals, and water, providing a seamless and smooth surface that's easy to clean and maintain. Homeowners typically only need to repair or recoat an epoxy floor if it cracks or yellows due to temperature changes or UV exposure.
Despite its higher initial costs, this makes epoxy coatings more cost-effective in the long term.
---
Garage Floor Paint vs Epoxy: Durability
When you're transforming your garage, you want to consider the long-term durability of your floor. After all, who wants to repaint every other year?
It's all about balancing how you use your garage versus your floor coating's expected lifespan.
How You Use Your Garage Matters
How you use your garage plays a key role in how long your garage floor coating will last.
If your garage is your personal pit stop for a commercial truck or a bustling DIY workshop, expect a lot of wear and tear. Frequent exposure to heavy vehicles, power tools, or harsh chemicals will challenge the integrity of any garage floor coating.
On the other hand, if your garage is a showroom for your sports car and only sees occasional use, your floor coating won't face much distress. The less your garage floor sees dirt, dust, or debris, the less maintenance it requires.
Garages used mainly for storage or sporadic parking do fine with garage floor paint. While not extraordinarily durable, this paint will withstand infrequent traffic and minimal exposure to harsh elements. Expect concrete floor paint to last anywhere from 1 to 5 years. However, be prepared for potential peeling, chipping, or fading over time due to abrasion, oil, grease, or chemicals.
However, consider epoxy coating if your garage doubles as your workshop or sees frequent traffic. Epoxy coatings stand up to consistent traffic and exposure to harsh elements much better than paint.
Epoxy coating has a lifespan of 5 to 20 years, proving its resistance to abrasion, impact, oil, grease, and chemicals.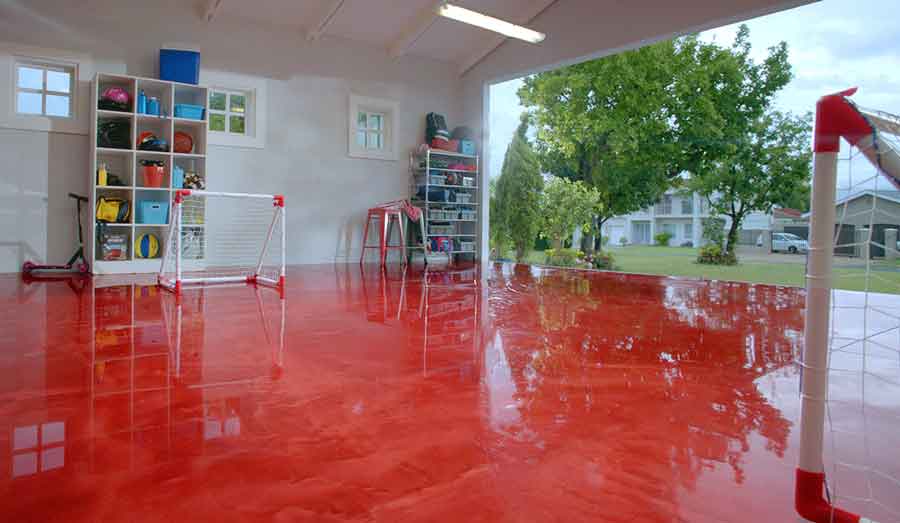 Environmental Exposure: Temperature, Humidity, Sunlight
Environmental factors, like temperature, humidity, and sunlight, also significantly impact your garage floor coating's lifespan.
If your garage is exposed to large temperature and humidity swings, the floor underneath will undergo stress. This potentially causes damage over time.
Similarly, garages that experience direct sunlight may start to fade or discolor due to the intense UV rays.
Let's work through some examples.
My garage in sunny, humid Florida needs a coating that can handle heat and moisture. Since the coating expands and contracts with the concrete slab, I'll need a coating that resists cracks and bubbles.
On the other hand, a garage in frosty Minnesota or dry Arizona will need a cold-resistant, corrosion-resistant, or crack-resistant coating. The coating must not shrink or become brittle along with the concrete, causing peeling or chipping.
---
Concrete Floor Paint vs Epoxy: Maintenance
Taking care of your garage floor is crucial to keep it looking spick and span and to extend its lifespan.
The maintenance routine varies depending on whether you've opted for garage floor paint or epoxy coating.
Cleaning and Inspection Frequency
Garage floor paint, while cost-effective, is more susceptible to stains, spills, and damage. Therefore, it requires more attention and regular cleaning. On the other hand, epoxy coatings have higher resistance to stains, spills, and damage, meaning you don't need to clean them as thoroughly as often.
So, how often should you clean and inspect your garage floor?
If you've opted for garage floor paint, roll up your sleeves. Weekly cleaning with a broom or vacuum is your best bet to keep the dirt at bay. Furthermore, a monthly deep clean with a mop or hose will ensure any stubborn stains or spills don't have time to set.
Regularly examine your floor for signs of peeling, chipping, or fading. You'll also need to act quickly to remove hot tire marks as soon as you see them.
Timely identification can save you from bigger problems down the line.
On the other hand, epoxy coatings have a more relaxed cleaning routine. A casual sweep or vacuum session now and then should suffice for cleaning. Remember to occasionally deep clean with a mop and mild detergent as well.
Despite its high durability, don't neglect to inspect your epoxy coating for signs of cracking or yellowing. Catching these signs early can help maintain your floor's integrity.
---
Wrapping It Up
As we've explored, both garage floor paint and epoxy coatings have their strengths and drawbacks, and the choice between them really boils down to your unique needs and circumstances.
Epoxy coatings generally last longer and are more resilient to harsh conditions than concrete floor paint. They can withstand heavy traffic, resist oil and grease, and bear up well under various environmental conditions, lasting 5 to 20 years.
On the other hand, garage floor paint, while easier to apply and less expensive, offers a shorter lifespan of 1 to 5 years. However, it could be appropriate for less demanding situations, such as a garage primarily used for storage or occasional parking.
No matter which floor coating you choose, a well-applied and properly maintained finish will always outlast one that's been poorly applied or neglected.
Whether you're a do-it-yourselfer or prefer to hire a professional, remember that attention to detail during application and commitment to regular maintenance are key factors that can significantly extend the life of your concrete garage floor.