Epoxy coatings and interlocking floor tiles are two of the best garage floor coatings, but it can be hard to choose between them.
Epoxy coatings are a type of coating used to protect and seal concrete floors. Interlocking floor tiles are individual tiles that lock together.
There are several differences between garage floor tiles vs. epoxy. The main difference is that epoxy is less expensive than floor mats or tile, but it's also less durable compared to rubber garage tile.
Rubber garage floors are the most durable. They usually come manufactured as 100% rubber making them more expensive than vinyl garage floor mats. Rubber garage floors are suitable for high traffic areas.
Vinyl garage tile is less expensive, but it's easier to damage and is generally used in garages that receive only light use.
Finally, garage tile requires more maintenance than garage coatings.
Which one will you choose? Learn more in this article!
---
Garage Floor Tiles: Overview
When people think about garage floor tiles, they usually think of the checkerboard pattern found in many showroom garages.
Most of those garage floor tiles are made from molded PVC plastic. However, you can also find durable options made from vinyl or rubber. If you just want your garage flooring to look more expensive, they even make peel and stick tiles.
That allows you to custom-tailor your flooring to how you use your garage.
For example, if you have a gym set up in your garage, then softer rubber tiles would be a great option. If you detail your cars in the garage, then vented PVC tiles would allow the water to drain away easily.
No matter which material you choose, they're available in various styles, colors, and finishes to help create the look you want.
PVC tiles work by interlocking together to create a solid surface. Depending on the manufacturer, they'll use grooves or tabs that snap into the tile next to it.
That makes it super-easy to install, or even replace a damaged tile after the fact.
For the rest of this article, we're going to be specifically looking at PVC plastic tiles for your garage floor.
Durability
Be aware that not all PVC tiles are the same. It's important to consider how the tiles are made. All garage tiles will eventually wear and tear, but some are more durable than others.
A main factor is the thickness of the tiles. The thicker the tiles, the longer they will last.
For example, IncStores, a less expensive popular option, are 1/2″ (12mm) thick. They only rate their tiles up to a 36,000 pound rolling weight.
That's about as heavy as an empty dump-truck.
By contrast, Swisstrax, one of the leading modular tile manufacturers, are 3/4″ thick. They rate their tiles up to a rolling weight of 70,000 pounds. RaceDeck tiles, even though they're only 1/2″ thick, go even further and rate their flooring up to 80,000 pounds rolling weight.
That's around double the rolling weight limit as the more inexpensive tiles!
To put it into perspective, that means you can roll a fully-loaded tractor trailer over your Swisstrax or RaceDeck flooring and not damage the tiles!
Even if you're only parking your sports car on your garage tiles, it's worth investing in durable, PVC tiles that you know will stand up to the pressure.
I ran go into more detail comparing Swisstrax and RaceDeck tiles in this article.
Advantages of Garage Floor Tiles
Garage floor tiles have several advantages over other flooring options.
One of the primary advantages of garage floor tiles is their durability. They stand up to bumps and scrapes better than concrete, or even epoxy floor paint. They're not as durable as a high-grade epoxy coating, but fixing the damage isn't nearly as bad, either.
You can usually replace individual PVC garage tiles. If an epoxy coating or concrete floor is damaged, you may be looking at re-coating the entire floor.
If you're like me, the biggest advantage is that interlocking tiles usually only need basic tools to install. They go right over your existing surface in only a couple hours.
Because they're modular, you can rearrange or replace them as needed.
The garage tiles are also resistant to heat. That means they're safe to use in unventilated garages, or near garage heaters or machinery.
Finally, they're easy to clean. That makes them safe for families with children and pets.
Disadvantages of Garage Floor Tiles
Depending on the style you choose, interlocking PVC floor tiles can be slippery when wet. This can be dangerous if you're working in the garage, with oil or other liquids on the ground.
Depending on the tile, some garage floor tiles can become discolored and even crack over time.
---
Epoxy Coatings: Overview
Before we start, it's important to note that epoxy coatings are different than epoxy paint.
Epoxy coatings are a two-part polymer coating that cures to form a hard, glossy finish. You can apply it to protect metal, concrete, and other surfaces from abrasion, chemicals and corrosion.
It's very common in home and commercial garages because of the following reasons:
It's easy to apply.
Helps insulate against electricity.
It's fairly low cost.
And has good adhesion over a wide range of substrates (including metals).
With the right knowledge and tools, epoxy coatings are fairly easy to apply, making it a DIY project for many homeowners.
Epoxy garage floor coatings also provide a low maintenance solution that helps withstand gasoline, oil spills, and heavy traffic.
How Do Epoxy Coatings Work?
Epoxy is applied over top of an existing floor structure (usually concrete). to the floor. A thick mixture of epoxy resin and a hardening agent is applied, much like a paint. However, true epoxy coatings are self-leveling, and can actually help fill in small cracks and damage to concrete floors.
Flakes and beads can be added during application to help make the epoxy floor more slip-resistant, or to provide an extra visual flair. Finally, when the first epoxy coat is dry, an additional clear coat is sometimes added.
The most common garage epoxy coating formulations are 100% solid epoxies. These are very durable garage floor finishes that can create a chemical-resistant surface.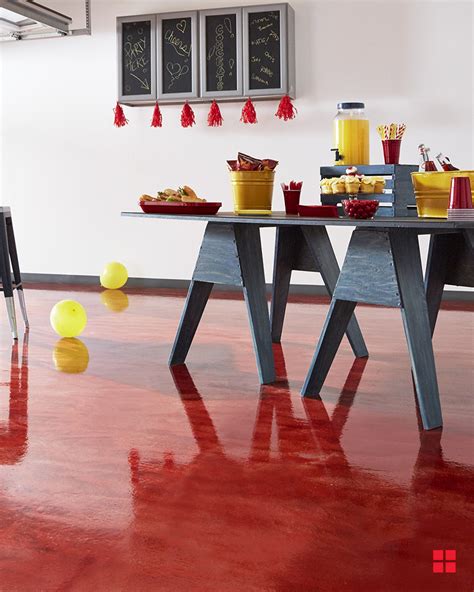 Durability
Epoxy coatings are tough and long-lasting, making them one of the most popular types of protective coatings. They're also resistant to most common chemicals and solvents, as well as dents, abrasion, and cracking.
As a result, they make an ideal choice for high-end garage floors. Installing an epoxy coating helps ensure that your garage floor will look good for many years to come.
Maintenance
Epoxy is easy to clean and maintain, making it a low-maintenance option. Most spills can be mopped up quickly to avoid staining the floor. General maintenance is usually nothing more than sweeping or vacuuming regularly to remove any dirt or debris.
While epoxy is strong and resists staining and fading, it's not immune to damage. Avoid using harsh chemicals or abrasive cleaners on the floor.
You can usually polish epoxy floors to buff out any small scratches and imperfections.
Advantages of Epoxy Coatings
Epoxy coatings provide some advantages for both industrial and commercial applications. As previously discussed, there is minimal wear and tear.
Epoxy coatings resist most damage from solvents and chemicals, making them suitable for applications where exposure to harsh traffic and chemicals is likely.
Disadvantages of Epoxy Coatings
Epoxy coatings release toxic fumes during application, which makes them more challenging to apply than garage floor paint. It's usually best to leave installation to professionals, which bumps up the cost.
Finally, while scratches are easy to fix, any substantial damage to an epoxy coated floor usually requires a re-coat of the entire floor.
---
Garage Tiles vs. Epoxy Coating: Cost
In general, garage tile is slightly more expensive for materials themselves. However, adding installation cost for epoxy coatings pushes their cost up significantly.
At the time I'm writing this, Swisstrax, RaceDeck and Husky, three of the most popular garage floor tiles, are all around $3.75 per square foot. IncStores is slightly less expensive at around $3.07 per square foot.
This will vary depending on the specific type and color tile you choose.
Leggari Products has several epoxy coatings available, at a cost of roughly $3.45 per square foot. Armor Garage is less expensive at $2.59 per square foot.
Expect to pay between $2.62 and $5.84 in labor to apply an epoxy coating, however.
Most homeowners choose to install the garage floors tiles themselves, but would need to hire a contractor for an epoxy coating. Assuming that to be true, it brings the total cost of garage floor tiles to around $3.60 per square foot. Epoxy coatings are around double the cost, $7.25 per square foot.
---
Garage Tiles vs. Epoxy Coating: Installation
In this section we'll briefly cover the process of installing garage floor tiles vs an epoxy coating installation.
---
How to Install Garage Floor Tiles
Installation of the garage floor tiles is a simple process, requiring only simple tools. Depending on your layout, you may need a table saw to cut tiles into smaller sizes.
You can install floor tiles over-top of existing flooring like concrete, asphalt, vinyl, laminate, or ceramic tile. I recommend applying a concrete floor sealant before installing the tiles.
No adhesive is needed if you're completely covering your garage floor. The weight of the tiles, plus the friction on your floor's surface will keep them in place.
However, smaller applications, like a motorcycle parking pad, will require some sort of adhesive.
Before starting, the surface should be clean and dry. Remove all debris and dirt.
The surface also needs to be as smooth as possible. No bumps, large cracks, uneven areas, or surface depressions should be visible that would allow the decking tiles to "rock" in place.
Use a patching compound or filler if the surface is particularly uneven.
Start at one of the back corners, snap the tiles together, moving width-ways across your garage. Once you get to the end of the row, move on to the next row.
Simply press down on the tiles until they snap into place with the tiles next to it. Once you reach the front of your garage, go back and cut tiles to fit any areas where a full-size tile wouldn't fit. This is also the time to install any corner edges, or lips.
---
How to Install an Epoxy Coating
I recommend leaving the installation of epoxy coatings to a professional. It requires a lot of tools and equipment to adequately install.
To prep your garage floor, you'll need some specific tools such as concrete grinders and floor demolition and prep tools. Specific shoes, several buckets and a roller or squeegee is needed to apply the epoxy evenly. Finally, you'll need brushes to get into corners and tight spaces.
The epoxy itself is normally sold in kits, with the epoxy and hardener included. Most manufacturer's will be able to sell you a kit specific to the exact size of your garage. However, some only sell their product in specific kit-sizes, so it's worth measuring your garage before you begin.
Here are the steps you need to take to apply an epoxy coating on your garage floor:
Prep the surface. This includes fixing any cracks and structural damage.
Clean the surface of the garage floor thoroughly. Remove all dirt, dust, and debris and cover all cracks.
Apply a primer to the surface of the garage floor. This helps the epoxy coating adhere to the surface.
Apply the epoxy coating to the surface of the garage floor. This includes any colors, flakes, or textures.
Allow the epoxy coating to dry completely.
Seal the epoxy coating for extra protection against damage and staining.
Epoxy coatings need time to dry before you can walk on it, or bring any equipment into the garage.
In garages smaller than 500 square feet, this usually takes about 48 hours. Larger garages increase this time to around 72 hours.