December 2022 Update: When I initially reviewed the FrenchMay LED shop lights below, I was concerned that I could not find the actual manufacturer of the lights. They were sold by a company called FrenchMay, but obviously manufactured by someone else.
Since that time, these lights have been rebranded to Bulbeats, but you can still find references to "FrenchMay" in the customer reviews. This leads me to believe that Bulbeats is looking to capitalize on the original product's feedback while selling a different product.
I recommend caution when looking at Bulbeats LED shop lights, especially when looking at the Amazon reviews. Customers may be talking about a product that is different than what is currently available.
Original Review as follows
The FrenchMay LED shop lights are one of the highest rated garage lights on Amazon. So I definitely wanted to include them in my shop light shootout article.
I've been looking at some of the most popular (and inexpensive) LED light fixtures on Amazon to see how they match up against each other.
Today, I'm looking at the FrenchMay Linkable LED Utility Shop Lights to see how they stack up against the competition.
---
Are The FrenchMay LED Shop Lights a Good Value?
I'm going to look at these lights a little differently than the other LED shop lights I've tested because of their price point.
At just over $40, they're over $10 more expensive per fixture than the Hyperikon LED shop lights I reviewed. Even worse, they're over $20 more expensive per fixture than the Barrina T5 LED 6500K lights that I plan on using as under-cabinet lighting.
It's worth noting that FrenchMay does have bundle packs available which brings down the cost considerably. The four light pack costs around $80: $20 per light instead of over $40 per light when purchased individually.
At this point, FrenchMay is pricing themselves close enough to LED fixtures like this one from Lowe's that allow you to replace the tube lights.
That puts them up against a whole different set of competition.
And I don't think they've got what it takes to compete.
These lights put out a respectable 4800 lumens for that price (111 lumens per $1), but at a certain point, I expect some extra features for the extra cost.
---
Who Makes The Light?
Then there's the question of who actually makes this light.
FrenchMay doesn't have a website that I can find. Their business seems to be exclusively on Amazon, so I can't find any product details anyplace other than Amazon. Update: Bulbeats similarly does not have a website. I can only find their products on Amazon.
For the record, there's nothing wrong with that.
The product I ordered online didn't have the same part numbers as the one I received, even though it looked exactly the same in the pictures.
According to the product information section on their Amazon page, the part number for my lights was SY-LED-ZJD.
But, on the fixture itself, they have the model YRSL-4012150-001. A quick Google search shows this same model number being sold in Canada by a company called MW LED.
After some digging, I believe the company that actually makes this LED fixture is Vastino LED Lighting out of Shenzhen, China. Unfortunately, I wasn't able to find the exact model number on their website. However, they do follow the exact same naming convention with their model numbers.
In the end, this only matters for long-term support or questions that can only be answered by the people that built the product. FrenchMay has an extremely good rating on Amazon at the time of this writing, so it appears that they're taking care of their customers.
---
The Fixture
The FrenchMay LED lights have a two-bulb metal fixture, painted in a semi-glossy white paint. The fixture itself is 48 inches long and 5 inches wide and two inches high. That makes it one of the larger fixtures I've tested.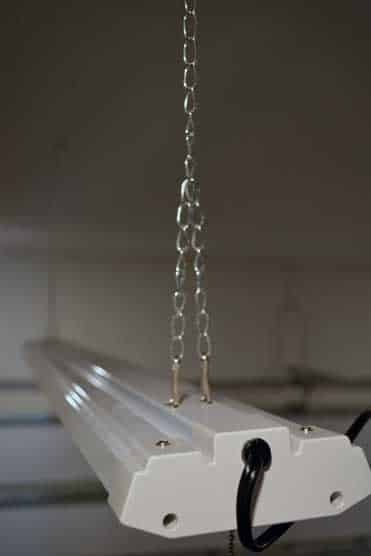 Nothing too surprising here.
You can hang the fixture from the included chains or directly screw it into your garage ceiling. The entire fixture weighs about three and a half pounds so it definitely won't overload your garage ceiling either way.
The chains loop in to the top of the fixture through two small screw holes. Using the chain instead of securing it to the ceiling directly makes the fixture noticably swing back and forth when I pulled the chain to turn it on and off.
When you mount a light fixture with chains instead of securing directly to the ceiling, you're going to have more movement. That's just a given.
However, I think having the two ends of the chain so close to each other makes it less stable.
I would have liked to see the chains moved farther out to the edges of the fixture instead of along the center.
There's an outlet on one of the endcaps that you can plug in another power cord to allow the lights to link to each other.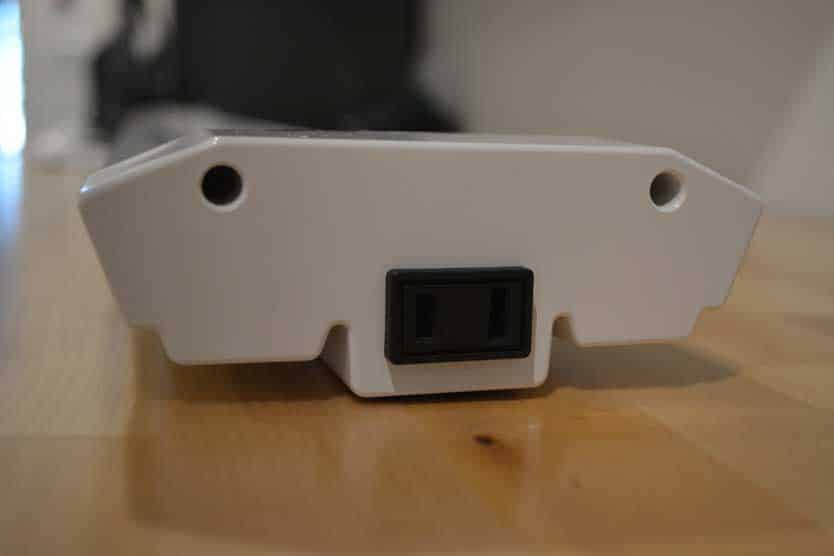 The pull chain doesn't control the power outlet, unfortunately.
That means you'll need to turn on each fixture independently. Otherwise you need to leave them all turned on at the fixture and turn them all all turn on and off from a wall switch.
Another disappointment was disappointing was the amount of flex in the fixture itself.
I measured the fixture to be 0.502 mm thick, which puts it right in between 26 gauge and 25 gauge metal. When you compare it to the Hyperikon fixtures, that's pretty thin.
---
Bulb Options
As with all of the other LED shop lights I've tested, the bulbs in these FrenchMay fixtures are not replaceable.
However, I was only able to find the bulbs at a 5000 Kelvin color temperature. There wasn't a clear bulb option, nor was there any other color temperature options.
That's not to say that those options don't exist, but nothing that I could find on their Amazon seller page.
Each fixture puts out a respectable 4800 lumens using 40 watts, as they're configured here. If you're not familiar with what a lumen is, I wrote an article that goes step-by-step through how many lumens you need for garage lighting.
---
Installation
I touched on this briefly above, but I chose to install my FrenchMay LED fixture using the chains rather than mounting them directly to my ceiling.
Installation was really simple. The chains snapped in easily to the screw holes, and everything felt very secure.
On the other end, the chains can attach using hooks or brackets, depending on whether you're screwing them into your ceiling trusses or into drywall.
It's highly recommended that you attach them to trusses whenever possible to help with weight distribution. If you can't do that, be sure to use strong drywall anchors.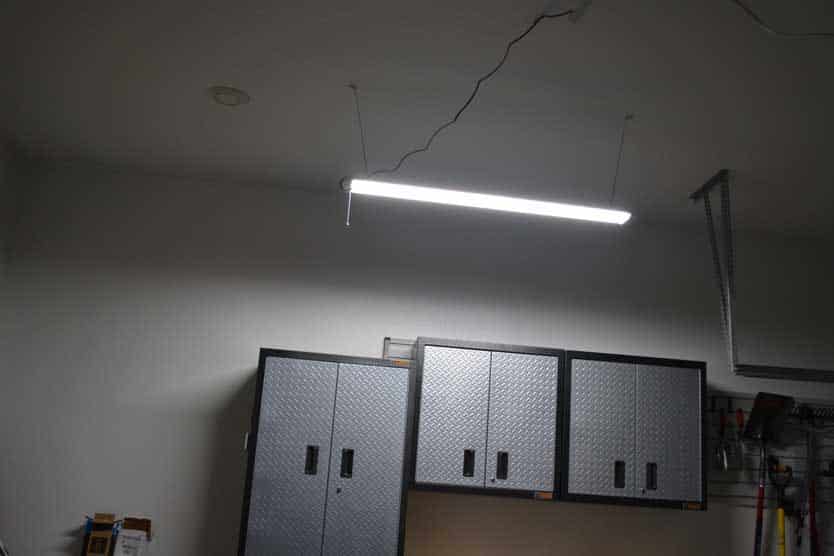 The lights gave off a good amount of light. Although there were some strong shadows cast in the upper part of my ceiling, that's got more to do with hanging the lights from the chains instead of surface mounting them.
Overall, I'm happy with the light fixture once it was in place.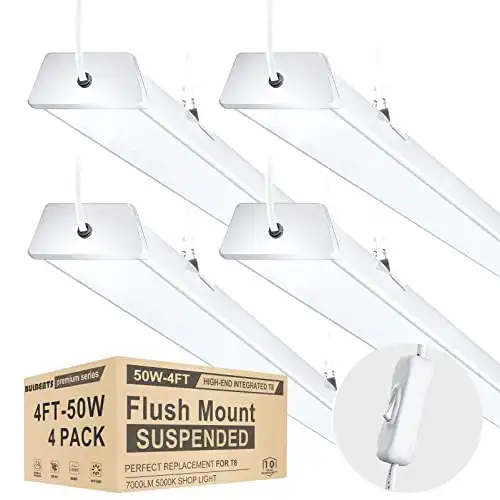 ---
Final Thoughts
I just can't see myself using the FrenchMay LED fixtures in my garage though.
To me, the thin-gauge metal used on the fixture housing felt flimsy. I didn't like the black power cable that stands out like a sore thumb against a white ceiling. The installation chains are too close to the center of the fixture. That contributes to a lot of swaying back and forth when you touch the light.
There is one and only one option for bulbs – frosted and 5000K. If those don't fit your needs, you're out of luck.
None of these things rule out the lights individually. Combined, they make this a non-starter for my garage.
These FrenchMay LED light fixtures are the most expensive shop lights I've tested so far.
For a price of just over $40 each, honestly, I expected better.
Wondering what garage lighting to buy? I tested some of the highest rated shop lights against each other to find the best LED shop lights. Check out my super-detailed guide to garage lighting for more tips!