Since I bought my house a few years ago, I've made a few big improvements to my garage. By far, the two best decisions I made were to upgrade the lighting and to insulate my garage door and walls.
Adding insulation to your garage might not get as much attention as a new set of cabinets. But it'll make it a lot more comfortable to spend time in. It's a great way to keep your garage warm in the winter and cooler in the summer.
Best of all, you can do it yourself, with a few tools, materials, and supplies from a hardware store.
In this article, I'm going to cover the different types of insulation that you can use, and the advantages and disadvantages of each. The I'll walk you through how you can insulate your garage quickly, and easily.
Let's get started.
---
Why Should You Insulate Your Garage?
I wrote dedicated articles on whether or not you should insulate your garage walls and insulating your garage ceiling, so I won't go into too much detail in this section.
In short, adding insulation to your garage gives you the flexibility to use it for storage during the cold months of winter and then convert it back into a workshop or man cave when summer rolls around.
For houses with attached garages, insulation will save you money on heating and cooling bills.
If you plan on actively heating or air conditioning your garage, adding insulation is a critical first step…unless you like throwing money away.
It also helps soundproof your garage, so you don't have to worry about the noise from inside the garage bothering people outside.
In short, insulating your garage:
Reduces noise levels, both in the garage and throughout the house.
Helps keep out moisture.
Maintains a constant temperature throughout the year.
Saves money on heating and air-conditioning.
Helps reduce the amount of dust that floats around in your garage during projects.
---
Best Types of Insulation for your Garage
Before you start adding any old type of insulation to your garage, you should know the basics about each one.
They all have their uses, and some will be much better than others, depending on where you use it.
---
Styrofoam Panels
Use It On: Garage doors, or as an inexpensive way to add basic insulation to walls
You might see this called foam-board, foam-panel insulation or simply Styrofoam panels.
It's a great, inexpensive insulator that works best when attached directly to the wall or garage door. It's easy to cut foam insulation, which makes installation a breeze.
Unlike some other insulation types, it doesn't need any gaps to trap air. It's main job is to act as a thick barrier to outside temperatures.
Foam board panels typically have an R-value of between 3.6 and 4.0, which isn't terribly high. R-Value is a measure that refers to how well an object or material resists heat transfer. A higher R-value insulation is more effective than a lower R-value insulation.
Rigid foam panels That said, foam panels are a good choice if you're looking for insulation on a budget.
Pros
Inexpensive
Great durability
Easy to install
Cons
Low R-Value (3.6-4.0)
Difficult to cut to fit around wiring, pipes or outlets
---
Radiant Barriers
Use It On: Garage walls or ceiling in a detached garage.
Simply put, radiant barriers work by reflecting the heat or cold where you want it.
Radiant barriers look like sheets of aluminum foil, attached to thick paper, or bubble wrap. It's commonly used in attics or crawlspaces in colder climates. Usually, the reflective side is pointed back to the house to stop the warmer inside air from heating the exterior walls.
If you have an unfinished garage and heater, you can use radiant barriers instead of insulation on your walls to help reflect that heat back to your work area so it's more efficient. It can be used for garages because it prevents heat and cold from transferring into other parts of the house.
Because of how they work, radiant barriers do not have an R-Value.
You also can't apply the reflective side directly to the wall. There needs to be an air-gap between the reflective side and the wall, or it won't work properly.
However, with the right use case, they can make your garage slightly more comfortable, at a relatively cheap price.
Pros
Inexpensive
Reflects 97% of UV rays
Easy to install
Cons
No R-Value
Limited use-case
Difficult to cut to fit around wiring, pipes or outlets
No soundproofing
---
Fiberglass Insulation (Batts or Rolls)
Use It On: Garage walls.
When you hear the word 'insulation', you probably think of fiberglass insulation first.
Fiberglass insulation is the most common type of insulation used in garages and in most homes. Found in most home improvement stores, it's made from recycled products, making it an eco-friendly option.
Batts are pre-cut insulation panels that are cut to the either 16″ or 24″ widths. They're designed to fit in between the standard stud-widths of most North American homes. That means there's no adhesive needed, and a single person can insulate an entire wall in about an hour.
For more details, you can see how I insulated my concrete garage here.
Alternately, fiberglass insulation can come in large rolls. Fiberglass rolls are still either 16″ or 24″ in width, but it comes in a single sheet that can be cut to the specific lengths you need.
Fiberglass is commonly found in a wide range of R-values, from as low as R-13 insulation to as high as R-38 insulation. So it's very easy to get as much, or as little, thermal protection as your budget allows.
Check out this article where I cover, in-detail, how much I spent to insulate and drywall my garage.
Pros
High R-Value (13-38)
Good value for the money
Permanent solution
Relatively easy to install
Great soundproofing
Cons
Walls need to be finished after installation
Fiberglass can cause skin irritations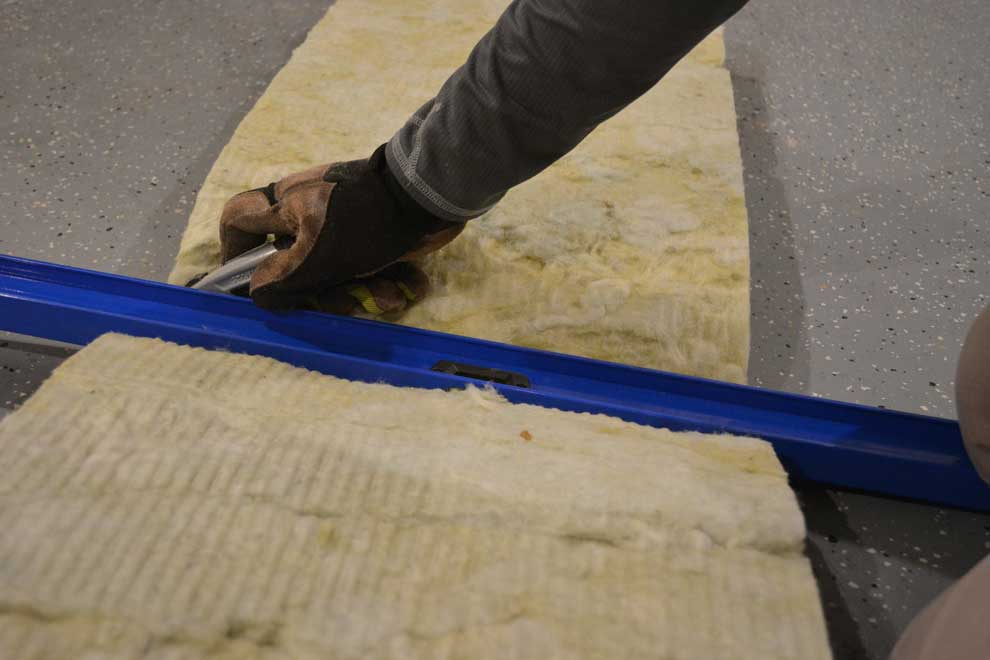 ---
Spray-on Foam insulation
Use It On: Garage walls or ceiling.
The next step up from fiberglass insulation is spray-foam insulation. It's another popular option for insulating homes and garages from cold weather, or hot temperatures during the summer months.
Spray-on foam doesn't have a solid, consistent structure like other types of insulation do. Rather than being compressed into a solid block, these materials are sprayed onto the garage ceiling and walls.
This type of insulation works well with any garage structure and comes in two different varieties: open cell and closed cell spray roof insulation.
Open-cell foam insulation is typically cheaper than closed-cell options, but it doesn't hold up as well to cold weather. It can also be difficult to remove without damaging the material. If you choose this type of garage insulation, make sure that your garage door and roofline are adequately sealed before installation takes place. This will help prevent the insulation from becoming wet and damaged.
Closed-cell foam is made up of a mixture that includes water, air, and oil (similar to styrofoam), making it a practical option for garage walls or ceilings since it can fill in small gaps between structures. Closed-cell spray foam has excellent insulating properties, making it effective at keeping your garage warmer during winter months or cooler when compared to standard fiberglass insulation options.
It is also used to seal small cracks, which makes it a great option if you want an all-inclusive solution for insulating your home or business.
Spray-foam insulation requires more work to install than fiberglass matting, and you generally have to hire an outside professional.
Pros
Very high R-Value (R-30 and higher)
Great durability
Cons
Installation usually requires a professional
More expensive than fiberglass insulation
Can be messy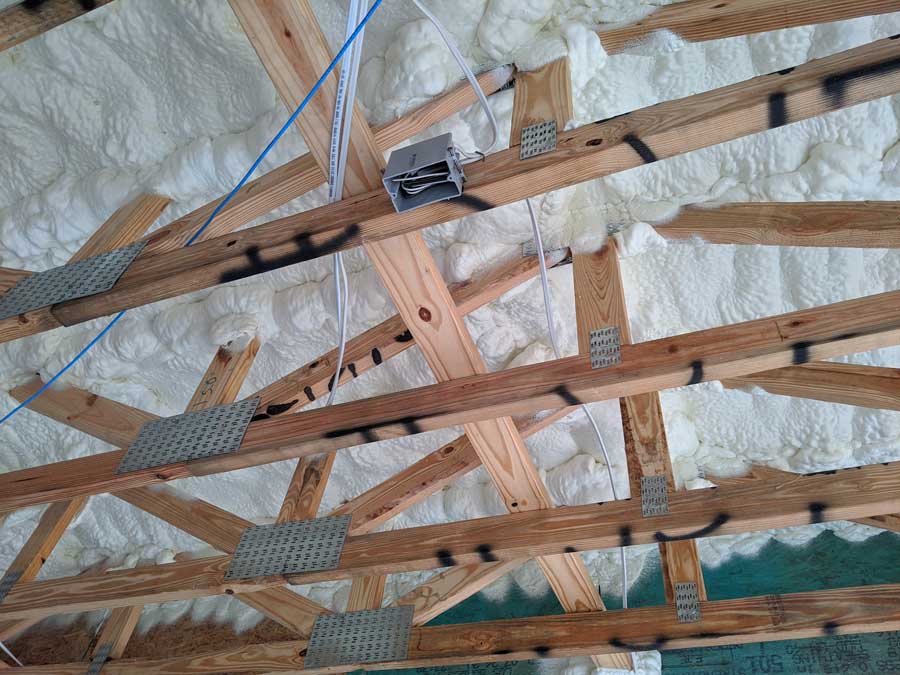 ---
Cellulose insulation
Use It On: Garage walls.
Cellulose insulation fills the gap between fiberglass insulation and spray-foam insulation.
Cellulose insulation is made from ground-up newspaper or recycled paper, so it doesn't cost as much as foam insulation. Like spray-foam insulation, cellulose is sprayed in to unfinished garage walls so it has better coverage than batt insulation.
It can be blown into your home's framing cavities, poured between joists in a basement ceiling, dropped from the attic floor above, or stuffed through holes drilled along exterior walls at the top of the foundation. It offers better a high performance, maximizing the energy efficiency of your home or building while keeping it comfortable year-round.
This insulation material usually requires a professional due to equipment and cleanup required.
The main disadvantage of this insulation material is that it can be flammable. If placed too close to heat sources (such as lights, electrical fixtures, or warm water pipes), the cellulose could catch fire. Proper installation and precautions should always be taken when using this type of insulation.
Do not use it in spaces where there are exposed flame sources or where there are places for combustible vapors to accumulate.
Pros
High R-Value (R-19 and higher)
Cheaper than spray-foam insulation
Great durability
Cons
Installation usually requires a professional
Can be messy
Potentially flammable if near heat sources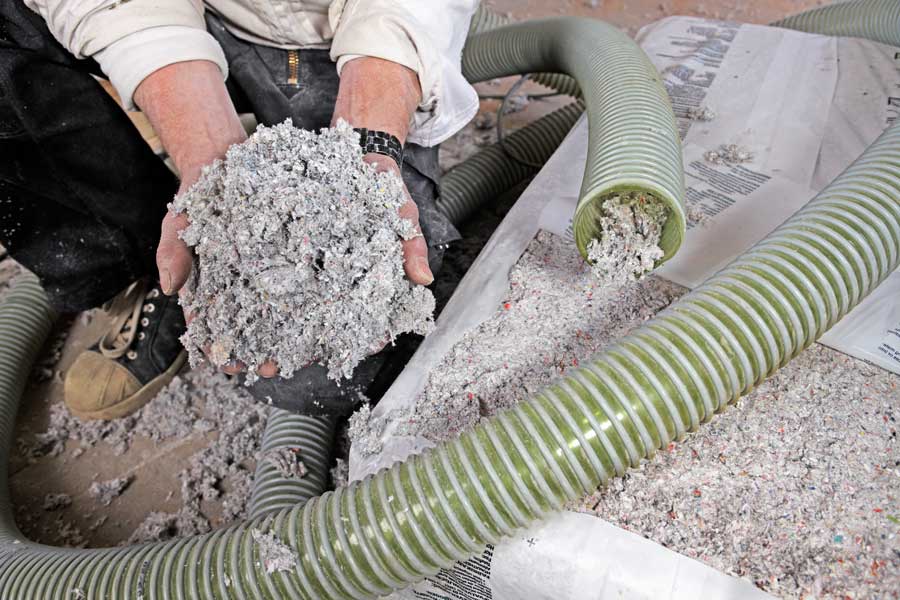 ---
What You Need
To insulate your garage, you will need:
Insulation materials such as batt insulation and fiberglass matting
Tools such as staple guns, tape measures, and utility knives
Safety glasses
Gloves
You can usually find these items at any local hardware store.
---
Safety Precautions
Before you start, remember to follow all safety precautions when working with insulation materials. Wearing long-sleeves and gloves is a must!
I can unfortunately speak from experience when I tell you that most insulation materials can cause skin irritation.
Ensure that the area is clean of any debris or nails before beginning to install insulation. Allow for proper ventilation, especially if using blow-in insulation like spray foam or cellulose. Keeping roof vents open is a good idea, if possible.
---
How to Insulate Your Garage Walls with Spray-Foam Insulation
Follow these steps for insulating your garage with foam insulation:
Measure and cut a piece of foam insulation that is large enough to cover walls, ceiling, and floor.
Make sure it fits tightly in place without any gaps or holes.
Use spray adhesive on all edges, then press firmly into place once you have it where you want it.
Use a staple gun to secure all corners.
After the insulation is installed, keep the garage doors and windows closed, when possible.
This helps keep your garage warm during the winter months and prevent dust from getting into newly insulated areas of the garage.
Use weather stripping along the bottom of your door to keep out drafts and cold air. This will help you save money on heating costs, especially if it's attached under an outer wooden frame that helps seal up any gaps around the outside of the door. You can also use foam insulation on the outside of your door to keep air from seeping in.
If you have windows in your garage, make sure they're covered with plastic or some insulation material. Left uncovered on cold nights or hot summer days, it can be a prime way for outside air to get in. Plastic helps prevent moisture buildup as well as insulate against the harsh winter weather.
Use an electric or gas garage heater to increase the temperature of your garage.
Never leave a garage heater unattended. Also, make sure that your electrical circuit can handle the load. Space heaters use a lot of electricity, and it can be dangerous if your wiring isn't up to the task. Space heaters will help keep you warm even on the coldest days.
---
How to Insulate your Garage Ceiling
Insulating your garage ceiling begins by making sure there are no leaks in the roof. Water is the enemy of insulation, so if water gets into your frame, it will destroy any existing insulation you have and cause dampness that can breed mold or mildew.
Next, if you intend to add insulation yourself, make sure it's the right type for your garage. The best choice is spray-foam insulation. Although pricey, it has a high R-value and is extremely durable.
For a quicker solution, you can use Styrofoam board insulation. It's less effective overall, but much cheaper to install and still provides good insulation protection.
Once you have chosen an insulation material for your garage, cut out pieces that will fit around the room and place them into place with a staple gun or other fasteners. You can also get a professional to help you with insulating your garage if this is too daunting of a task for you.
---
Insulating the Garage Door
Before you start, check the condition of your garage door's rollers and tracks. If they're damaged or broken, it could prevent the door from opening.
Insulation will add additional weight to your garage door. It's critical to make sure your garage door is working properly before we begin. You may need professional assistance to fix any issues.
The next thing that you should check is the condition of the garage door because if it has any dents, grooves, or holes, this will prevent insulation from doing its job properly and keeping your home safe.
Finally, make sure that your doors open and close smoothly and level; otherwise, this could lead to problems with your insulation system.
In this article, I go step-by-step through the process of installing the Matador garage door insulation kit on my garage door. It wasn't quite as easy as they made it out to be, but still worthwhile. Be sure to check it out.
---